Buying guide
The great buying guide: the best telescopes for beginners
Have you ever dreamed of discovering the night sky with your own eyes? We can guarantee to get you started in astronomy with our telescope recommendations.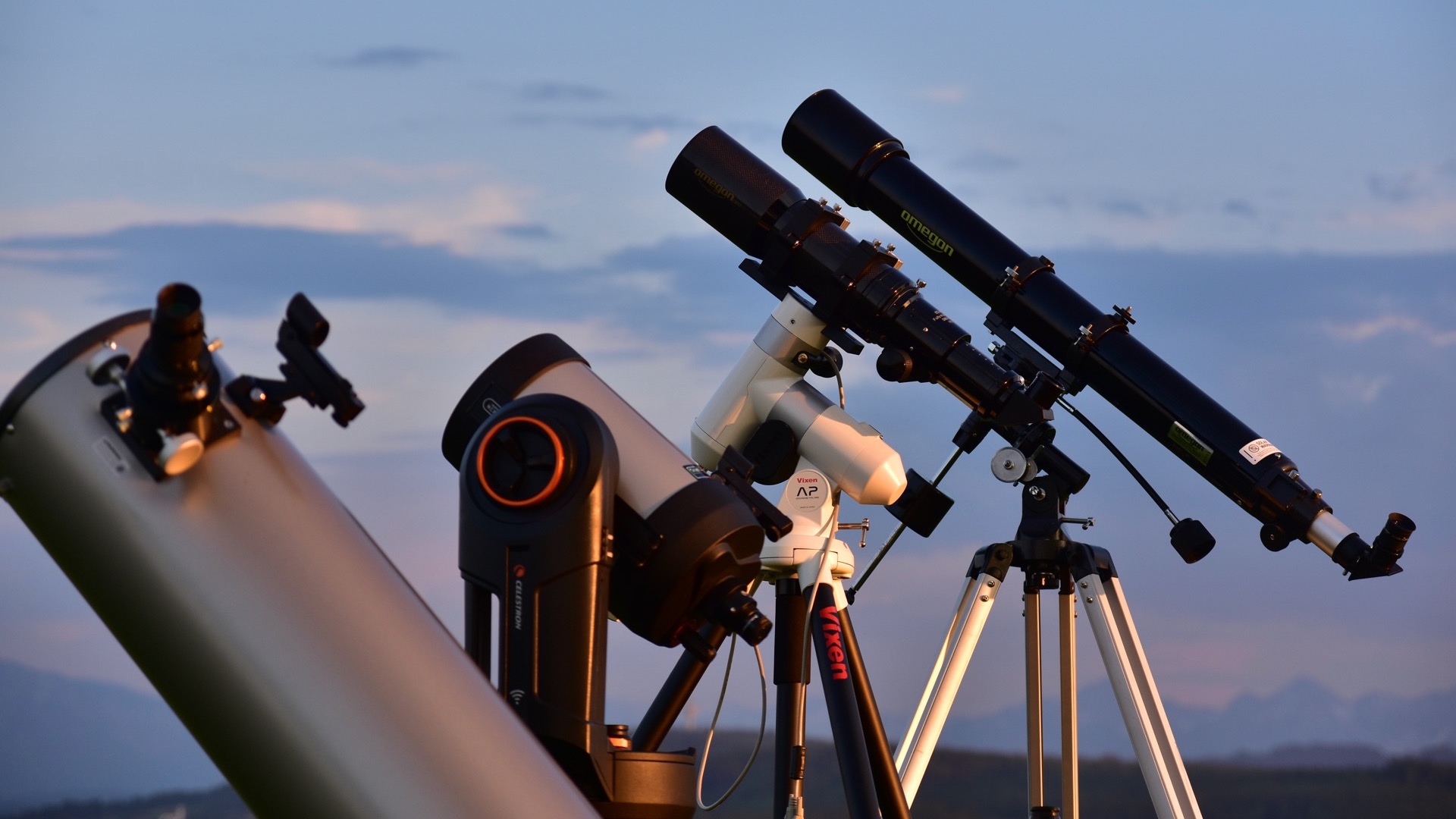 Newcomers to astronomy are faced with a confusing selection of telescopes. Our experts quickly shed more light on them for you
So, you're fascinated by the night sky. You don't have a great deal of knowledge just yet, but wouldn't you love to see Jupiter's clouds or Saturn's rings? And maybe later, glowing gas nebula and far distant galaxies?
For this, you will need a telescope. The choice is huge and bewildering at first glance. With our buying guide, we make if easy for you to get started. Includes suggestions for different budgets, the important accessories you'll need up-front, and links to further information.
Starting out on your journey to the stars
From experience we know that most beginners want a cheap telescope, with which they can observe and photograph the Moon and planets as well as nebulae and galaxies. Don't try to do too much in the beginning. Start by observing bright objects such as the Moon and planets and gain some experience first.
Our recommendations take your needs into account and will quickly get you on your way. At first, good optics and and a stable mount are more important than complicated extras. If your telescope functions correctly, then you can concentrate on the stars.
Two telescope recommendations for beginners:
Telescopes come in a range of designs. As a beginner, we recommend you choose a lens telescope with a small aperture, which is perfect for the Moon and planets. If you want to get more involved, then a mirror telescope with a larger aperture for observing nebulae and galaxies may be the answer.
Can a mirror telescope also be used to look at the Moon and planets? But of course. A lens telescope works for nebulae and galaxies too, but the larger mirror has a distinct advantage. It collects more light and makes the objects clearer to see.
What else is important:
The selected lens telescopes come with an intuitive to operate mount that can be turned horizontally and vertically.
Mirror telescopes rest on stable Dobsonian mounts, which are easily set up.
Some telescopes are equipped with digital navigation systems that make it easier to find objects.
Does it need to be less expensive? You can also see a lot with binoculars!
Enough of the theory, now it's time to get practical: our easy-to-use telescopes for your introduction to observing the night sky.
A journey through the solar system with your telescope
Even a small lens telescope shows details on the Moon and the bright planets.
High contrast
Upright image when using a 90° angled eyepiece, sometimes laterally transposed
Compact, low weight
Suitable for travel
Tip: perfect for children, teenagers and adults who have always wanted to take a look at the Moon, the desert planet Mars and the rings of Saturn.
Compact, fast lens telescopes. The AC 80/400 is a specialist for the Milky Way and comets; for planets, choose the AC 102/660. Zenith mirror as an image-reversing optic, the image is laterally reversed. Easy orientation with intuitive red dot finder. Useful 20-mm and 10-mm eyepiece set. AC 102/660 with 2" focuser for wide-angle eyepieces, including an adapter for 1.25" eyepieces.
Classic, long focal length lens telescopes, specialists for bright objects with high magnification such as the Moon and planets. Right-sided image thanks to image-reversing Amici prism optic. 6x24 finder with upside-down image with the Vixen AC 70/900. Useful eyepiece set with 20 mm and 10 mm or 20 mm and 6 mm. Particularly high-quality mount with the Vixen AC 70/900.
Taking your telescope into deep space
With a larger-aperture mirror telescope, you can discover faint nebulae and galaxies.
High light-gathering power
Picture is upside-down (not a problem for celestial observing)
Easy to set up
Comfortable viewing position at the side of the telescope
Tip: perfect for observers who want to travel deeper into the universe. Sail away to star clusters, nebulae and distant galaxies.
A classic powerful amateur telescope for all objects, with a 6-inch aperture, marks the entry into serious observing. The 6x30 optical finder shows an upside-down image. With 25-mm and 10-mm eyepieces. 2" focuser for wide-angle eyepieces, including an adapter for 1.25" eyepieces. Retrofit a radiant finder, product no. 58247, to find nebulae and galaxies.
A classic 8-inch Dobsonian telescope for serious observers. Suitable for both the Moon and planets, as well as nebulae and galaxies. With a 25-mm eyepiece, it is worth supplementing with good eyepieces. 2-inch focuser. Retrofit a radiant finder, product no. 58247, to find nebulae and galaxies. The telescope can be supplemented with a PushTo system for digital celestial navigation, see product no. 55768.
Easy tracking with an EQ mount.
Do you already have a little experience? Then a telescope with an equatorial mount would make sense. These are usually referred to as "EQ" and are set up in such a way that the rotation of the night sky is compensated for by rotation of one axis. You can do this by hand at first, then later retrofit with a motor. In this way, you can get your first experience photographing bright objects such as the Moon and planets.
For this to work, the mount must first be aligned with the celestial pole before starting observing. In addition to the optics and tripod, you will also need counterweights and, if applicable, a power supply for the motor. In return, the object will remain centred in the eyepiece, even at high magnification.
Gain experience with astrophotography using your telescope
Objects remain in the eyepiece, even at higher magnification
Must be aligned with the celestial pole before starting observing
Requires counterweights and power supply, where applicable
High light-gathering capability Newtonian telescopes with 150 mm aperture and equatorial mount. Intuitive red dot finder with the Omegon, 6x30 finder with the Skywatcher. 25-mm and 10-mm eyepieces, supplement with 5-mm. The stable mount reliably holds the tube in place, and ensures a steady image. With the slow-motion controls, you can hold every celestial object in the field of view. The EQ3-2 can be retrofitted with a tracking motor.
Newtonian with equatorial mount, offering 78% more light-gathering capability compared to a 150-mm telescope. Suitable for both the Moon and planets, as well as nebulae and galaxies. With 25-mm and 10-mm eyepieces, supplement with 5-mm. Perfect as an introduction to astrophotography; long exposure times are also possible with optional upgrades such as a motor set or a GoTo retrofit kit.
Find targets in the night sky with a telescope navigation system.
Hundreds of targets are hidden in the night sky, which only become visible through a telescope. But how can you find something that you can't see yet? The easiest way to do this is by using a celestial navigation system.
GoTo systems are equipped with motors and can independently align the telescope with a target.
For PushTo systems, you align the telescope manually; arrows on the smartphone display lead you to the target.
For this to work, the telescope must first be aligned using reference stars.
How digital navigation systems help to get you started:
Find objects faster, even with little experience.
You get to know your way around the night sky through your observations.
Not fully automatic: with PushTo you set up the objects yourself in the eyepiece.
You maintain control over your observation target.
Lens telescope for the Moon and planets; digital celestial navigation is possible using a smartphone. Zenith mirror as an image-reversing optic; the image in the eyepiece is laterally reversed. Intuitive red dot finder. PushTo mount with a guided tour to easily find bright objects. The telescope can also be attached to other mounts by means of the prism rail.
Mirror telescopes with digital celestial navigation by integrating a smartphone. Depending on the app used, thousands of objects can be targeted. Intuitive red dot finder. N 150/750 with 20-mm eyepiece, N 203/1000 with 25-mm and 10-mm eyepieces. Supplement with high-quality eyepieces to make best use of the short focal length's field of view. Can also be attached to other mounts by means of the prism rail.
Discovering the night sky with binoculars.
Does a telescope seem too big or too expensive for you? Then we recommend a good pair of binoculars. You won't discover details on planets with one, but it can be a faithful companion during the daytime too.
The real advantages of binoculars:
A telescope for your jacket pocket: compact and fits in any luggage
See more in one go: with a 5-6° field of view you can see large celestial objects
Orienting without standing on your head: the binoculars show the night sky upright and right-sided
You can use both eyes to observe in a relaxed way
Insider tips for inexpensive roof prism binoculars that will deliver brilliant images. The Talron HD with 8 times magnification and a 42-mm aperture is perfect for light-polluted suburban skies. The high-light-gathering Hunter with 8 times magnification and 56-mm aperture is better suited to dark country skies. Both deliver bright and sharp images even by daylight and, with 8 times magnification, can be hand-held.
Ultra-lightweight, large binoculars for stars and nature watching in the classic Porro design. With a magnesium housing, highly transparent BAK-4 prisms and nitrogen filling. 12 times magnification and a 50-mm aperture make the Argus super astronomy binoculars that will show you plenty without overly brightening the sky. Don't forget the tripod, otherwise an unsteady image will prevent you from seeing detail.
With significantly more magnification, spotting scopes fill the gap between binoculars and telescopes. A tripod is essential. The ED 15-45x60 with its brilliant low dispersion special optics can see up to 3 degrees of field of view in the sky. They are nitrogen-filled and waterproof. Suitable for daytime nature watching as well as for nebulae safaris in the summer Milky Way.
With the combination of the "Deep Sky Reiseatlas" (deep sky travel atlas) and the radiant finder, you have a perfectly-tuned navigation solution to find nebulae and galaxies: the radiant's target circles are printed in the atlas, and often an initial bearing is all that you need to already see the object in the finder eyepiece. A red-light torch ensures glare-free map-reading and does not interfere with the eyes' dark adaptation.
The Moon is easy to find, but it presents a completely different challenge: it appears uncomfortably bright through most telescopes. It would be novel to try observing with sunglasses, but a special Moon filter is a much better idea, which reduces brightness and improves the contrast.
If you want to see detail - the famous Cassini division in Saturn's rings, for example - the telescope must not shake. And you mustn't shake, either! It is best to settle yourself down next to your telescope and give yourself time for your observation. A height-adjustable seat may seem like an unnecessary luxury at first, but you will very quickly come to appreciate it.
With this short checklist, you will have everything you need:
Telescope and tripod or rocker box
Power supply for GoTo telescopes
Eyepieces
Radiant finder for nebulae and galaxies
Sky atlas
Red-light lamp
Moon Filter
Observing seat
And what about astrophotography?
We have a very simple recommendation: start with visual observation. Let's briefly explain why:
5 good reasons why you shouldn't start with astrophotography right away
You will initially be busy learning how to handle the telescope, and how to orientate in the sky and identify objects
If you start with visual observation, with a Dobsonian telescope you can get going immediately without a great deal of set-up and preparation
Astrophotography requires a stable mount with a tracking motor, which must first be carefully aligned with the celestial pole
In addition to an astrophotography-compatible telescope and mount, you will need an astrophotography camera, power source, laptop, table, ...
Astronomy photos are not produced ready-made by the camera as in normal photography, you have to process the images on a computer
Is it impossible for beginners to take photographs?
That's not true, but there's one condition: we need lots and lots of light. You can take a photograph of the Moon with your smartphone through your telescope - you don't even need to track the telescope to compensate for the rotation of the night sky. The challenge here is to position the camera lens correctly over the telescope eyepiece. A smartphone adapter, which connects the two together and is adjustable, helps this process. Soon you'll be impressing family and friends with your self-made lunar portraits!
It gets a little more complicated if you want to photograph nebulae and galaxies. Here you need long exposure times, and this can only be done with accurate tracking. But here too we have a trick: if you reduce the magnification, then the tracking requirements are also reduced. Here we dispense with the telescope and mount the camera directly onto a photographic mount which, when roughly aligned with the pole star, allows exposure times of a few minutes. You will be amazed by what then becomes visible!
The bottom line
Star-gazing is fun. What could be more fascinating than exploring the Universe with your own eyes? Each time you will discover or learn something new. With our telescope recommendations, you will definitely start off on the right foot. And if you have any questions, we are here for you - our astronomy experts are themselves active observers and are happy to advise you!
You might also be interested in these articles: