Buying guide
5 questions to consider before buying a telescope
Which questions do I need to ask myself in order to find the right telescope? Selecting a telescope step by step.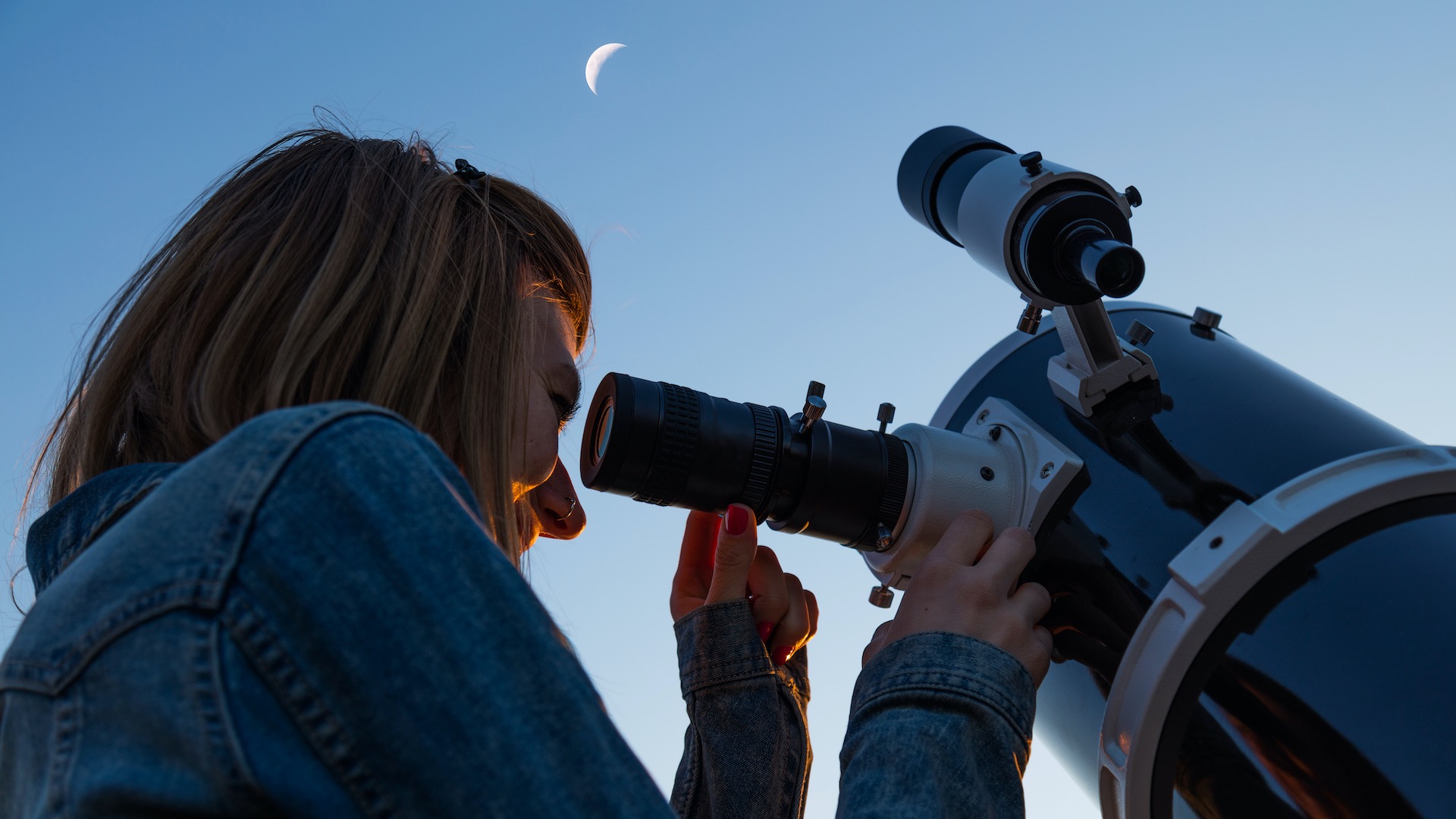 The choice is huge and advice is important. Your entry into astronomy will succeed with the right telescope. AstroStar/Shutterstock.com
5 questions that you should definitely ask yourself before buying a telescope
Did you know that many beginners start with the wrong telescope? And it is rare that they are still using the same instrument 5 years later?
It's no big surprise — there are many different types and designs, and usually in the beginning you don't really know what's important. But we're here to help with all that. In this article, we'll help you find the best telescope for you with 5 useful questions.
Let's get going!
1. What's your view of the sky worth?
Maybe you find this question a little premature. Aren't there any other issues to watch out for? Of course, there are.

But your budget is a good pointer to help you to pick out the real diamonds and ignore the rocks along the way. Therefore, make sure you know right from the start how much you want to invest.

What is possible with which budget? Here are four clues:
Up To 200 euro: This is not much for a complete telescope with a tripod and mount. With most telescopes you'll have to compromise. Either in terms of optics or stability - and yet these two points are important if you want to enjoy observing. Despite this, you don't want to spend any more? We recommend a good pair of binoculars or a spotting scope and a rotating star chart. With these, you will get to know the sky, and discover your first large deep sky objects. And binoculars and spotting scopes are also great companions during the daytime!
Up To 400 euro: You have more money at your disposal and want a telescope with good optics? Then go for a small lens or mirror telescope on an altazimuth mount that you can move in all directions. Or a Dobsonian telescope; here the mirrors account for most of the spend. The advantage: you get a stable telescope with large optics for visual observation. This will keep you supplied with observing targets for many years.
Up To 800 euro: In this price range, the first steps in astrophotography are possible. Now you have access to a mount that is already photo-capable, or can be easily upgraded. Depending on your interests, you can add a lens or mirror telescope to the mount - more about this later. Photo-capable mounts counter the effect of the Earth's rotation and automatically track the stars. For this to work, it takes a little more effort to set up, and we will come to that later, too.
Above 1,000 euro: You like smartphones and apps? The computer-controlled GoTo telescopes, with which you can locate objects at the touch of a button, start from here. You select your targets by handbox or mobile phone and let the telescope take over the navigation to the target.
Question: what is your budget? Once you have determined this, you are well-prepared for the next questions.
+ here you will find binoculars up to 200 euro
2. Fast-food observer or slow-sky gourmet?
Of course, this is not about food. But, as with food, you can speedily set up a telescope to take a quick look at the sky, or you can put aside a whole evening to fully enjoy the whole observing experience.
How much time you want to spend will dictate which telescope design you choose.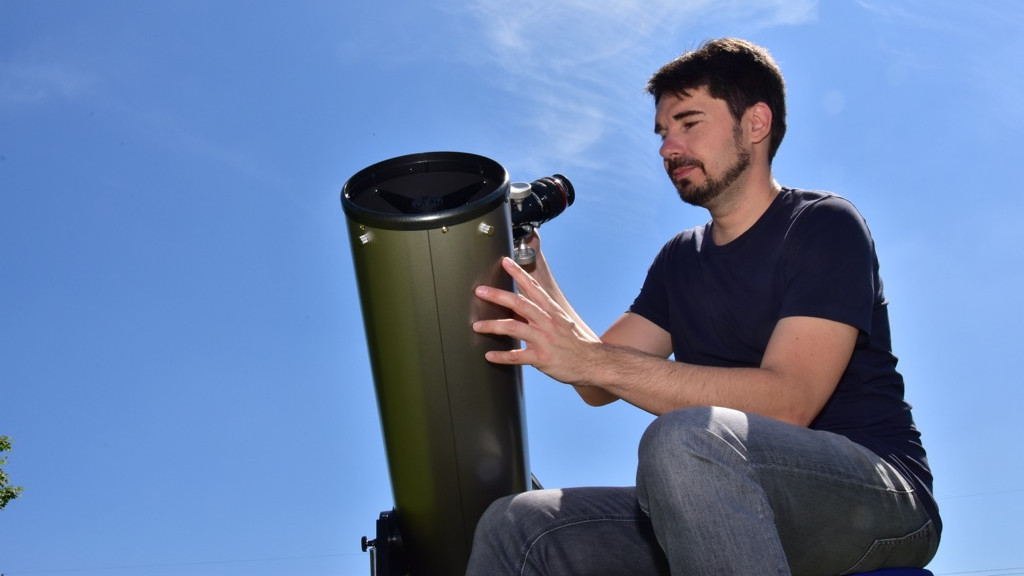 For example, a Dobsonian telescope consists of just two parts, is quick to set up, and is moved simply and manually to locate and track targets.
An instrument with an equatorial mount consists of a tripod, counterweights, optics, the mount, electronics, and a power supply. Once set up, it must still be aligned with the celestial pole.
The effort is greater for astrophotography than for visual observing. Of course, you can observe for a moment or for a long time with any instrument, but if you just want to take a quick look at the sky, then sometimes a big set-up effort can be really off-putting.
Question: how much time do you want to spend setting up and observing? More or less than an hour? Or three hours a night? Preferably, at the weekend or quickly after work? Find out and decide how much time you have to spare.
+ telescopes with altazimuth mounts
3. Minimalistic observing or fun with digital technology?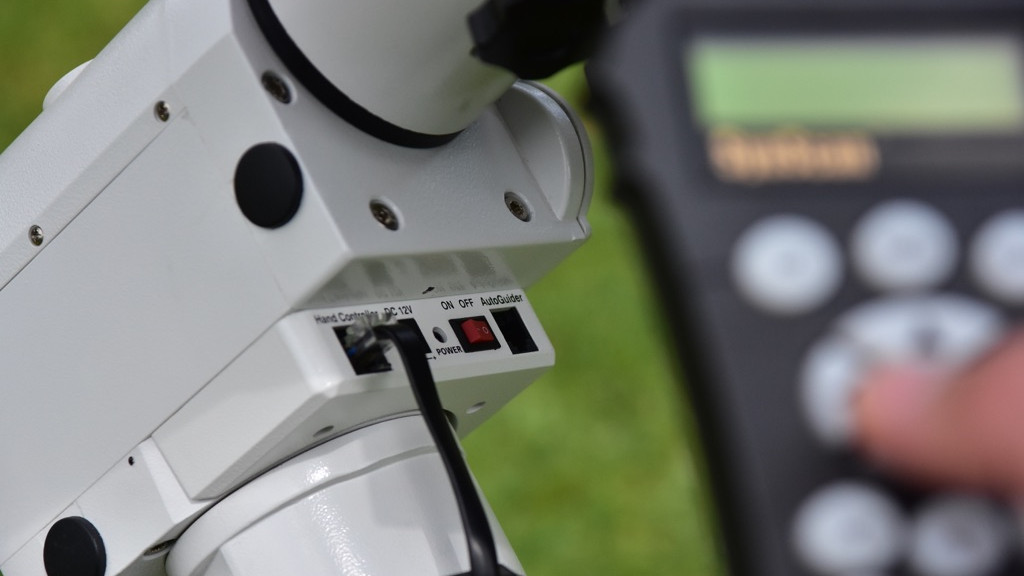 Of course, you don't have to live without technology like the Amish people in the USA. But it can be relaxing to observe with a telescope without technical refinements. Just like Herschel and Messier did. Enjoying nature far away from smartphones and digital technology - how does that sound?
It's not just the observing, but also finding the objects. All that without electronics, but with just star chart and sky atlas. You can get such a feeling of elation to find for yourself a galaxy in the sky that is millions of light years away.
Or maybe you are fascinated by digital technology and, already as a child, always wanted a job like the legendary Scotty or Pavel Chekov on the Starship Enterprise? Then a telescope with a GoTo system or automatic alignment is the right one for you.
Using an electronic system, you control the telescope with a handbox or with your smartphone. You work with technology and a screen; the telescope points to the objects automatically thanks to the built-in motors, and tracks them. You need to be able to grapple with the technology. But for you, that's the enjoyment when you choose one of these telescopes.
Question: think about whether you would prefer a manual telescope or a fully automatically controlled telescope. Some telescopes can also be retrofitted with tracking motors and a control at a later date. And our Push+ mount systems connect both worlds: you manually track your Dobsonian telescope and the software on your smartphone helps you find the targets in the sky.
4. Just observe visually or take astrophotos?
There are two types of observing:
Enjoying the visual impression live, or recording the objects photographically. Both have their appeal. Maybe you feel drawn to astrophotography because you are already practising photography in your spare time. Which interests you more?
For beginners, we recommend starting with visual observation because this way you get to know your telescope, and gain practical experience of the starry sky. This will keep you busy for some time, because there is a lot to learn and discover.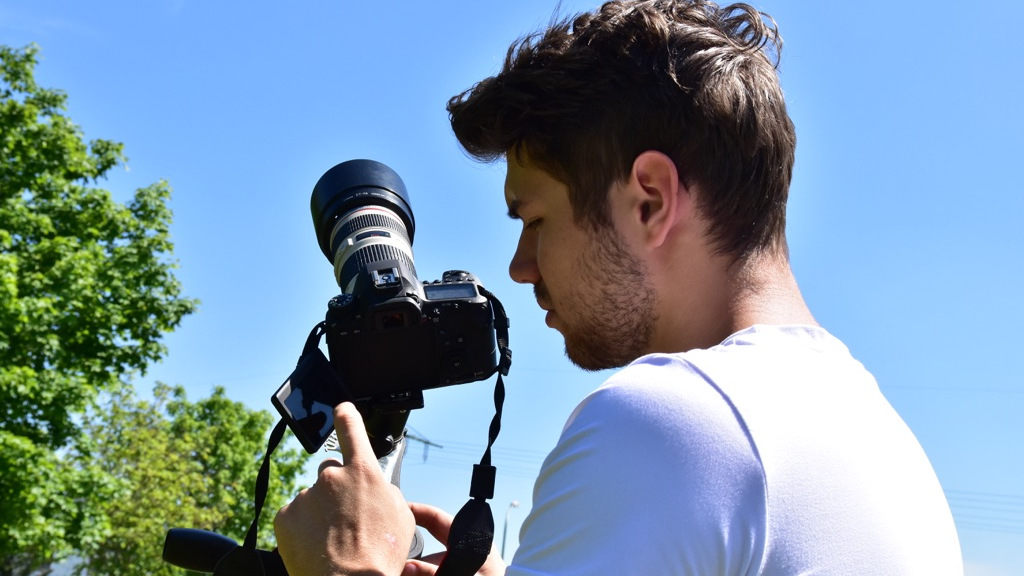 Astrophotography is then the second step, if this is actually what you want to do. Dobsonian and other altazimuth-mounted telescopes are intended for visual observation. Whereas telescopes with an equatorial mount and a GoTo system also allow long-exposure astrophotos of nebulae and galaxies.
Many amateur astronomers either decide to be a visual observer, or to focus on cameras, technology and image processing. One reason is the quite different demands that visual observing and astrophotography place on telescopes and the observer. There is no ideal instrument for both.
Question: ask yourself what interests you more: visual observing or photography? Then you can set off in the right direction now, and don't have to make expensive detours later.
5. The Moon and planets or nebulae and galaxies?
The Moon and the planets are among the first objects you discover in the starry sky.
It is fascinating to immerse yourself in the landscape of the Moon and to feel almost like being in a spaceship floating over its surface, or to see Saturn with its rings, or Jupiter with its moons and cloud zones, live in your telescope.
If you want to mainly observe the solar system, a refractor telescope is ideally suited to this. The Moon and planets are bright objects, they do not need much aperture and benefit from the high-contrast image produced by a refractor.
Do you want to dive deeper into space and marvel at nebulae, globular star clusters and galaxies? Then reflector telescopes are perfect for you. For the same budget they have a larger aperture than refractor telescopes, and collect more light.
However, you should not expect that a live galaxy, through a telescope, looks anything like that in a photo. The view of a galaxy that is millions of light years away sometimes lies at the limit of perception. However, with the knowledge of what you are observing and a trained eye, you can see many details. And the challenge is also half the fun.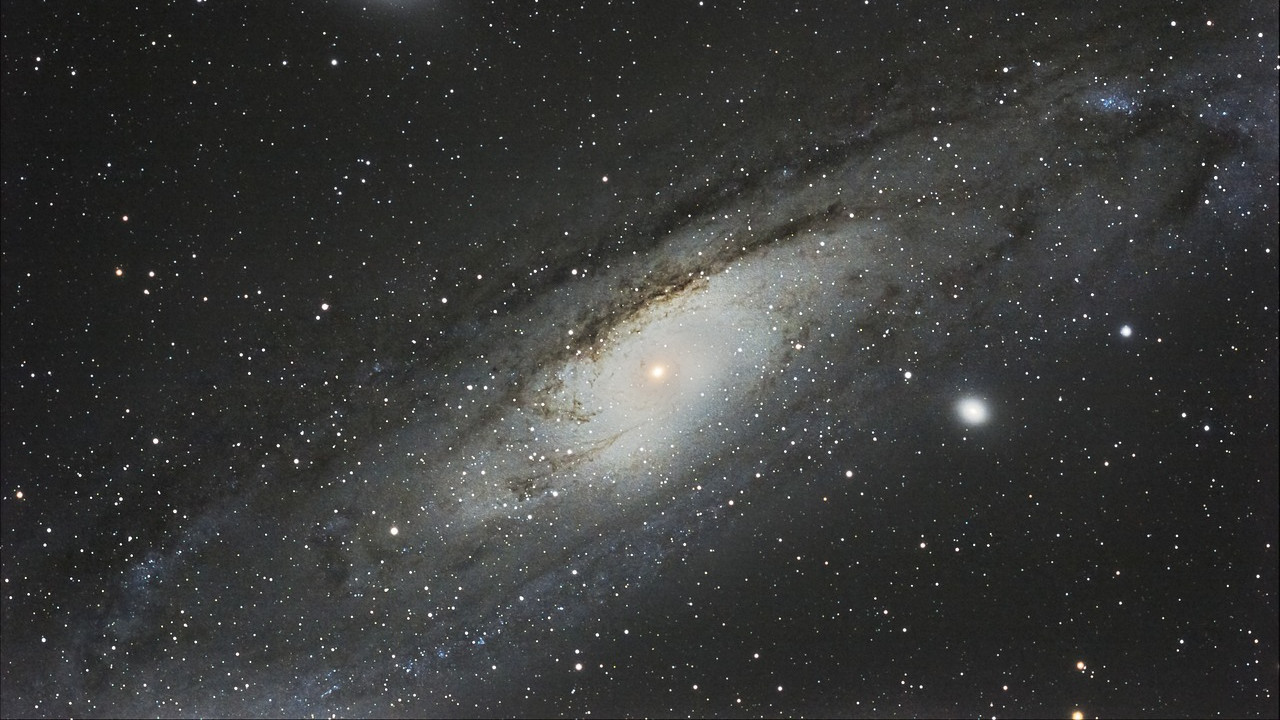 Question: Solar system or beyond? Your observing location - at home, or a place within easy reach away from light pollution - will also help you to decide.
With these clues, you will find yourself well-equipped to easily track down the telescope of your dreams. Get going right away: and you'll become clear about what's important to you. The sky is waiting for you.
Author: Marcus Schenk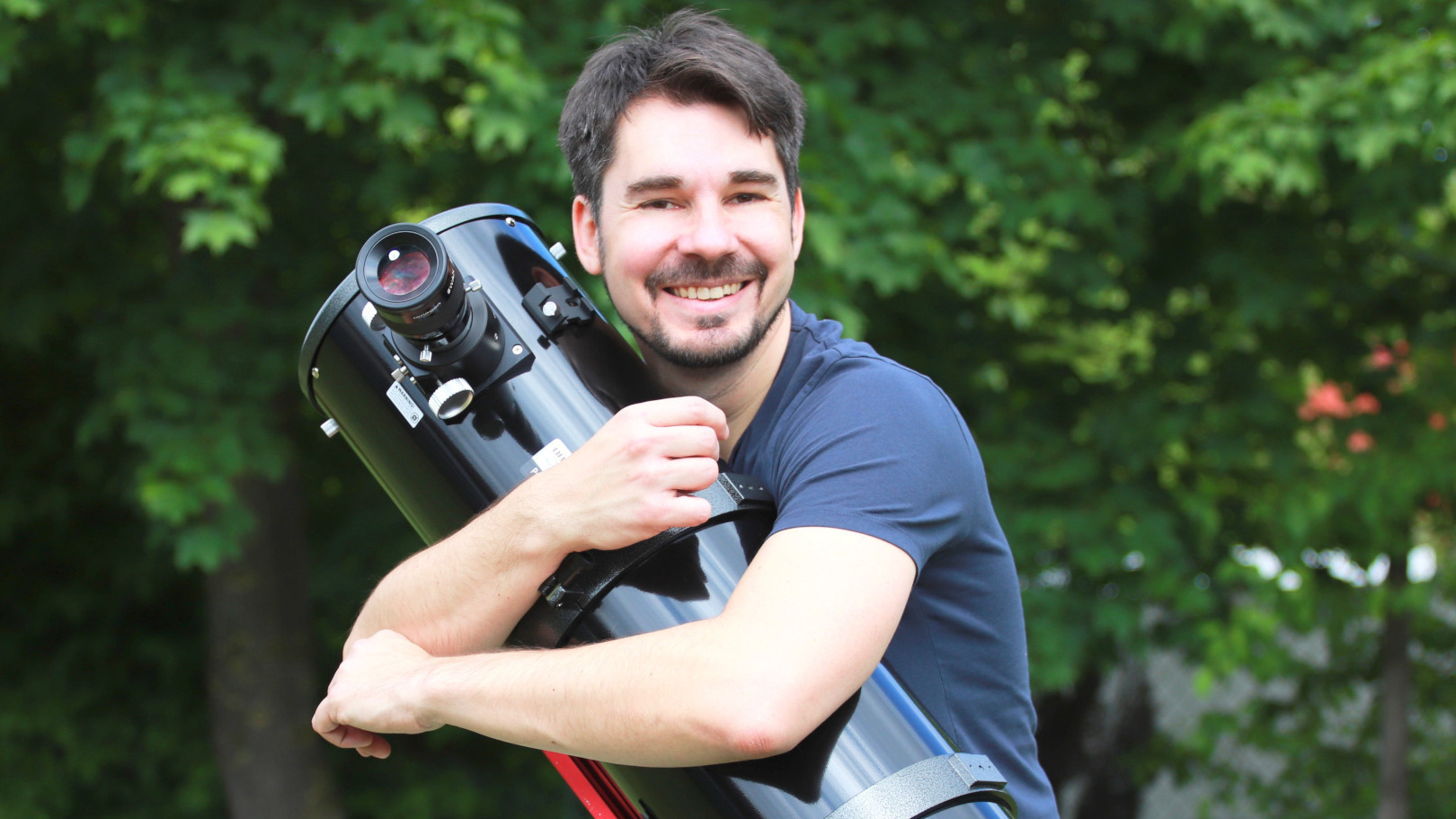 Marcus is a stargazer, content creator and book author. He has been helping people to find the right telescope since 2006, nowadays through his writing and his videos. His book "Mein Weg zu den Sternen für dummies Junior" advises young people, and those who are still young at heart, what they can discover in the sky.
As a coffee junkie, he would love to have his high-end espresso machine by his side under the starry sky.
You may also find these articles interesting: